The SureStay Hotel by Best Western-Santa Monica guest rooms are designed in a contemporary, efficient style. All rooms feature quartz countertops in the bathroom and on most furniture surfaces. Most rooms include an in-room coffee maker, refrigerator, and microwave oven. Select rooms offer kitchenettes equipped with a countertop, refrigerator, microwave oven, overhead cabinets, and basic kitchen utensils. Five ADA accessible rooms are available, located on the first floor of the hotel. Four of these accessible rooms feature standard bathtubs with handrails, a shower seat, and an adjustable-height showerhead. One of the accessible rooms provides a roll-in shower with a shower seat. All ADA guest rooms offer appropriate clearances and turning radiuses in their bathroom and bedroom spaces.  Equipment is also available to be installed in standard guest rooms for hard of hearing or short stature guests. View the available room types below or contact the hotel directly for more information and availability.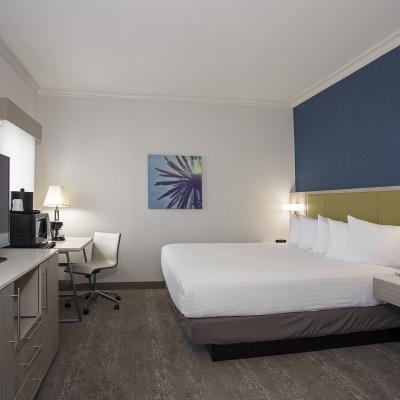 Guest Rooms with 1 Bed
Located on the 1st and 2nd floor of the hotel, our Standard rooms feature either a king bed or a queen bed. All standard rooms offer a refrigerator and microwave oven.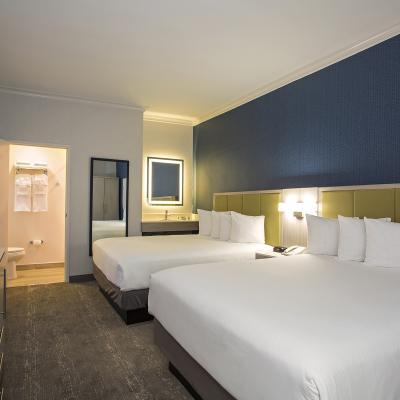 Guest Rooms with 2 Beds
Located on the 1st and 2nd floor of the hotel, our rooms with two beds offer two full or queen beds and similar amenities to the Standard King rooms.
Accessible Rooms
Our hotel features a total of 5 ADA Accessible rooms. We offer four ADA Accessible rooms with bathtubs and one ADA Accessible room with a roll-in shower.  Bathrooms include handrails, grab bars, and accessible turning radiuses.  Guest bedroom spaces also offer accessible clearances and turning radiuses.  The hotel offers equipment that can be installed in any guest room for hard of hearing or short stature guests.  Please call or contact us directly at 1-310-450-5766 and we would be happy to try to provide you with specific information you may need regarding our ADA accessible rooms and availability.